By Ibtissam Bouseta, Omar Saadani Hassani and Meryem Aakairi
4 June 2021
It is no secret that the most sincere and efficient efforts to protect biodiversity have always been deployed by local communities. Throughout history, indigenous communities have been fostering their undeniable connection and dependence on their lands through traditional conservation practices. The Amazigh communities of the High Atlas Mountains are no exception.
However, their access to new and sustainable concepts in the agroecology sector have been undoubtedly limited due to numerous factors, stemming from their isolated regions and shortage of environmentally-driven educational programmes. In order to support local communities to manage their lands and resources sustainably, Global Diversity Foundation (GDF) and Moroccan Biodiversity and Livelihoods Association (MBLA) are working together to deliver a training of trainers programme.
MBLA field agronomists Meryem and Omar are in charge of developing and facilitating eleven capacity-building workshops, aimed at introducing agroecology practices to our eight local community researchers from Ait M'hamed, Imegdal and Oukaïmeden. In addition, the Director and gardener of the Dar Taliba school garden are also joining these workshops.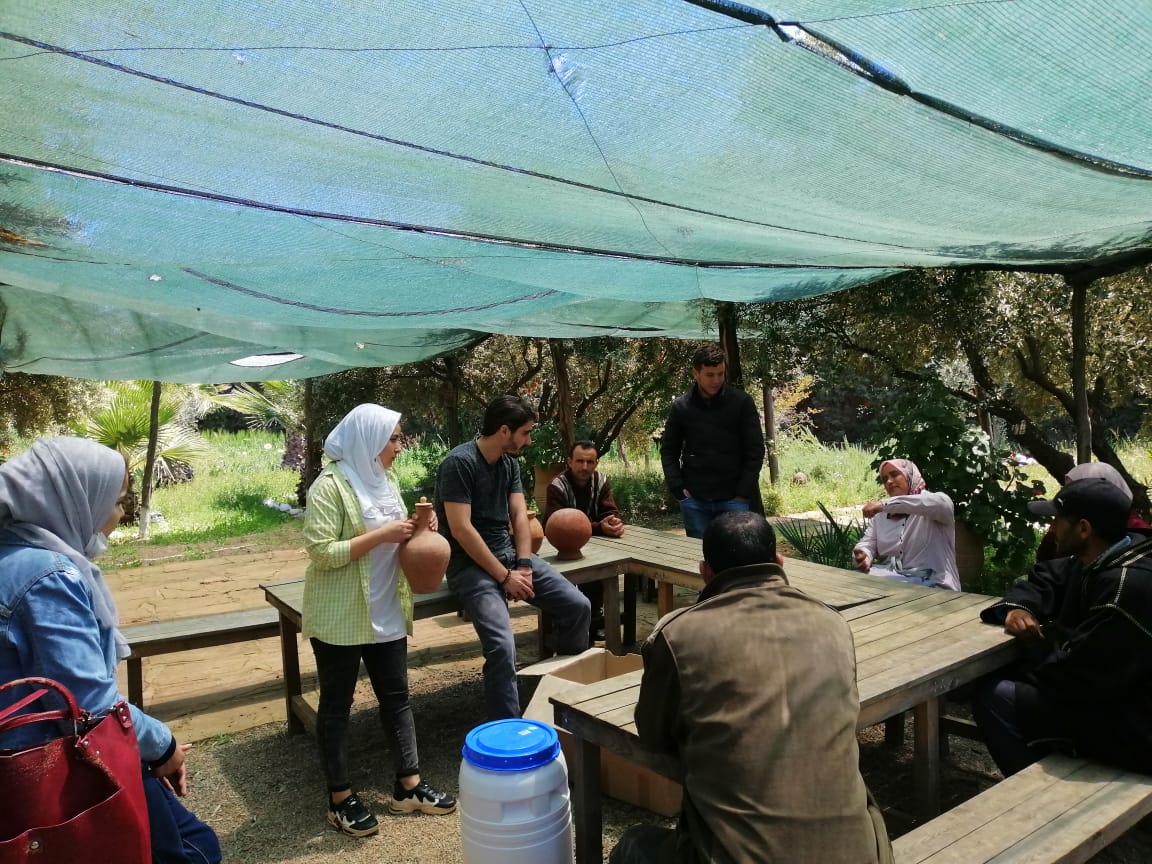 Water management and saving workshop: Theoretical explanation on the operating principle of oyas and its positive points. (credit: Nihad)
The first workshop was held in mid March at the Dar Taliba school garden in Ourika as an introductory session to present agroecology benefits on soil quality and on the health of plants, animals and humans. Meryem and Omar also highlighted the urgency to spread awareness about agroecological practices as a crucial method to fight against climate change.
We held a discussion with our community researchers to assess their current knowledge and skills in agroecology, and to inquire about their availability and commitment to be a part of the upcoming workshops. We also encouraged them  to become ambassadors of sustainable practices in their communities by conveying their newly-acquired skills and knowledge in the field.
Installation and filling of an oya on the near of the crops (credit: Meryem)
During our second workshop, which was held in May, we highlighted the importance of optimal usage of water through sustainable water management systems. Participants learned a few simple systems, such as trapping rainwater. They also explored different irrigation systems and ways to increase agricultural production using less water.
It is thanks to the support of the Darwin Initiative and MAVA Foundation that we are able to implement this intensive capacity-building programme for our community researchers. Over the next few months, we will continue organising training sessions on other topics such as transmission pedagogy and communication of agroecological knowledge.
Stay tuned for more updates!